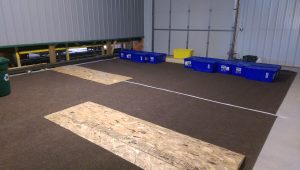 Our build team was busy working on the arena this past week!  Austin Aune and Ben Lieberg put together the chute out at Aune Farms. The rest of the arena is also being worked on and we are super excited to test out the robot on it!
Team shirts and goggles were ordered today! Yay! Also a package for fans and family is being made consisting of sweatpants and a sweatshirt.
We are currently less than a month away from competition!