The gators started their final day in St.Louis by being picked 5th overall. The captains of the 5th alliance, Team 217 the Thunder Chickens, picked 5172 as well as well as Team 2834 The Bionic Black Hawks and The 1629 Garrett Coalition. The Gators unfortunately lost in the quarterfinals to the 4th seed alliance.
After our matches the team explored the city for lunch but was back in time to watch the Einstein division and the closing ceremony.
Following this the team loaded the bus for the long trip home.  We returned home around noon on Sunday where we received an escort from Middle River to Greenbush by the Fire Department.  There were also many families and friends waiting to welcome us back!
We had an amazing experience!  Thank you to all our sponsors who helped make this trip possible!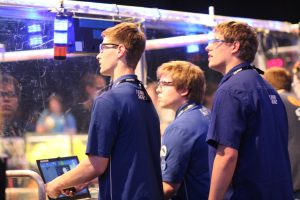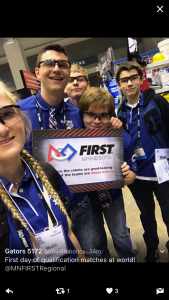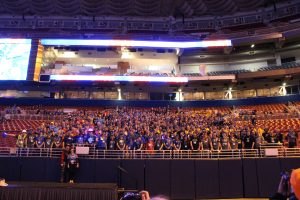 Submission by: Dylan Heggedal and Blake Dallager